SMART, AUTOMATED STYLE
Offering more than just protection from the sun and rain, a retractable roof can completely transform your outdoor space.
Create a complete entertaining area with an outdoor room feel, add lights and sound for maximum impact. It's the ultimate in outdoor comfort and style.
Available in a range of brands and fabric options, the Canberra Blinds, Awning & Curtain Centre can design, deliver and install a complete solution for your backyard or patio.
HELIOSCREEN ALL SEASONS RANGE
The Helioscreen All Seasons retractable roof is a stunning choice to cover patios, courtyards, meditation spaces, or to extend your home pool area. Incorporating a waterproof fabric, the system offers 100% rain protection to create an outdoor room feel for an alfresco lifestyle you can enjoy in all seasons.
HELIOSCREEN VARIOSCREEN RANGE
The Helioscreen Varioscreen® Retractable Sunroof is a dynamic sun protection system. It allows sunlight and natural light through to your living and working areas while reducing glare and heat for a natural way to balance the temperature in your home.
SOUTHWEST BIO CLIMATIC PERGOLAS
Bioclimatic Pergolas are an adjustable louvered system that combine form and function. Instantly adjust to sunlight and weather fluctuations manually, or with a remote control.
SOUTHWEST RETRACTABLE ROOF
With innovative features and architectural style the Southwest Retractable Roof can completely transform your outdoor areas. Add lighting, timber cladding, vertical blinds and heating as desired.
FULLY CUSTOMISED TO SUIT YOUR SPACE
No matter your space, our experienced team can guide you through the process from design and colour selections and take care of all the details – including delivery and installation.
Take advantage of a FREE design consultation and get your new outdoor makeover underway! Visit us at our Fyshwick display centre, or we can come to you.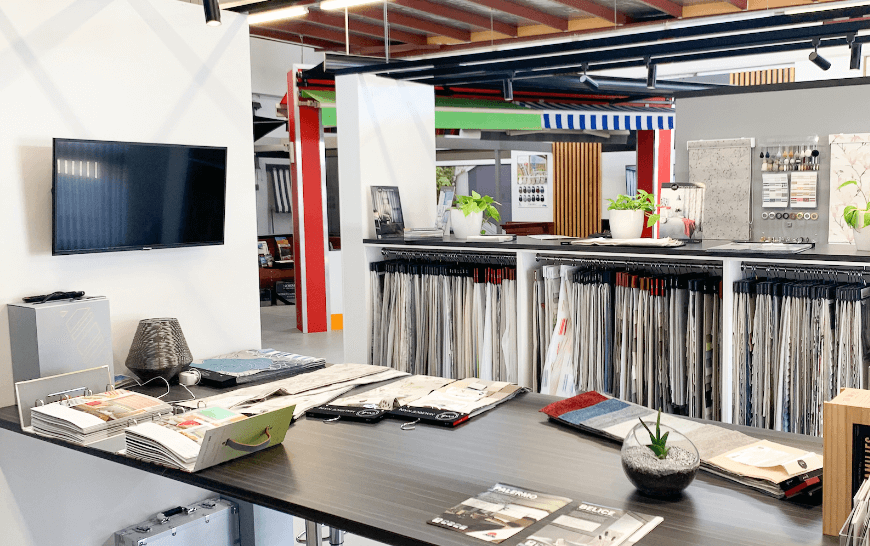 VISIT OUR DISPLAY CENTRE
Experience the fabrics, products and brands firsthand and find even more inspiration at our display centre.
Filled with everything you need to refresh your windows and outdoor areas, you'll be spoilt for choice.