AWNINGS
Stylishing and practical shade solutions.
EXTEND YOUR OUTDOOR LIVING
Keep your outdoor area cool and protected from the sun with a stylish awning. Available in a range of options, finishes and fabric choices, we can customise your awning to suit your style.
Perfect for providing extra shade for windows to help control the temperature inside your home too!
ADD SMART AUTOMATION
Add an extra touch of luxury to your awning system with remote control operation.
Adjust your shade at the touch of a button, and fold it away with ease. Ask us about incorporating smart features into your shade system today!
FOLDING ARM AWNINGS
Folding arm awnings are a retractable shade system to keep you cool and protected from UV rays.
Fully customisable and available with a one-touch remote option, you can add shade at the touch of a button.
STRAIGHT DROP AWNINGS
Create a complete outdoor room feel with a straigh drop awning.
Straight drop awnings are the ideal answer for balconies, verandas, patios, windows and pergolas. Available in acrylic
fabric or screen mesh, offering privacy, shade and visibility.
FULLY CUSTOMISED TO SUIT YOUR SPACE
No matter your space, our experienced team can guide you through the process from design and colour selections and take care of all the details – including delivery and installation.
Take advantage of a FREE design consultation and get your new outdoor makeover underway! Visit us at our Fyshwick display centre, or we can come to you.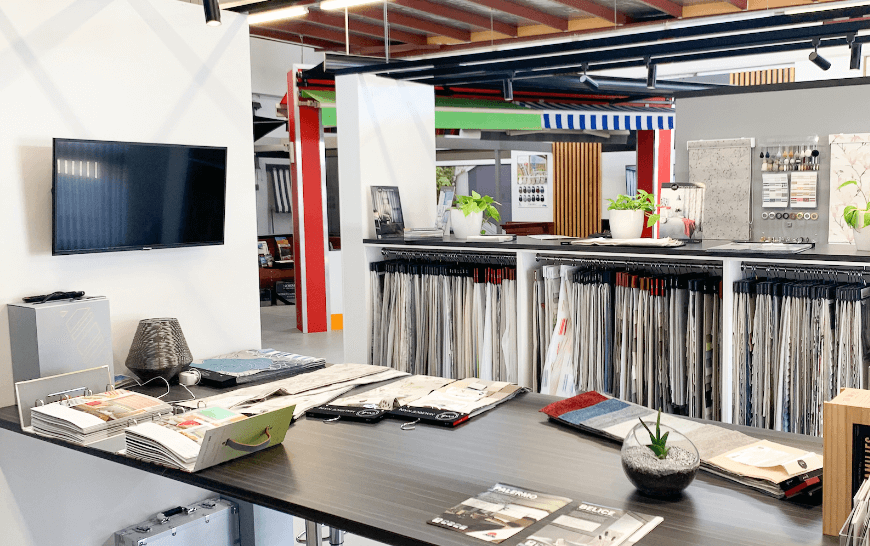 VISIT OUR DISPLAY CENTRE
Experience the fabrics, products and brands firsthand and find even more inspiration at our display centre.
Filled with everything you need to refresh your windows, you'll be spoilt for choice.