STYLISH AND PRACTICAL
Adding cover to your outdoor spaces and venues ensures you can keep all areas open all-year-round.
The Cannberr Blinds Centre offers a huge range of options that can be customised to suit any space. It means your patrons and staff are protected from the elements and are kept comfortable, no matter the weather.
GUILLOTINE GLASS SYSTEM
The Guillotine Glass System is a modern solution for restaurants, cafes and balconies. With vertical sliding glass panels, it offers an unobstructed view, with a maximum clear span, no vertical frames and a minimalistic horizontal frame.
Retractable Roof System
Retractable Roof Systems offer the ultimate flexibility for cover, only when you need it. With a range of all-weather fabric options for protection from the sun and rain, a retractable roof is as practical as it is stunning.
FOLDING ARM AWNINGS
Extend your seating and function space with a Folding Arm Awning. Stylish and fully customisable, easily add cover at the touch of a button.
OUTDOOR BLINDS
Outdoor blinds are the perfect solution to quickly enclose covered outdoor areas – keep visitors warm in the cooler months, and dry if it starts to rain. Available in fabric or clear PVC options.
ROLLER SHUTTERS
Secure your store or venue with a Roller Shutter which can be installed over entry and exits, as well as window fronts to give you extra peace of mind after hours.
FULLY CUSTOMISED TO SUIT YOUR SPACE
No matter your space, our experienced team can guide you through the process from design and colour selections and take care of all the details – including delivery and installation.
Take advantage of a FREE design consultation and get your new outdoor makeover underway! Visit us at our Fyshwick display centre, or we can come to you.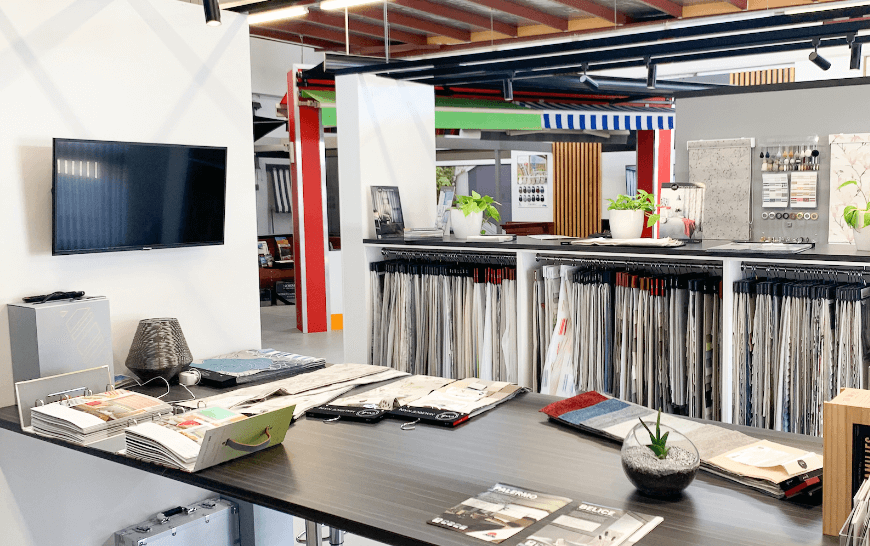 VISIT OUR DISPLAY CENTRE
Experience the fabrics, products and brands firsthand and find even more inspiration at our display centre.
Filled with everything you need to refresh your windows, you'll be spoilt for choice.